Navigate to: Tools > Vouchers

Step one: Create the voucher.
Step two: Create the reminder message
Under the 'Messaging' heading, you will find the option of 'Reminder messages.'

Select '+ Add message' to create a voucher reminder. Select your desired channel(s) of communication and continue.

Reminder messages are created the same way as emails using the TalkBox email editor. You can also use this guide to create Redemption and Expiry messages.
Step three: Schedule the reminder
Specify what time frame you wish to send the reminder before the expiry, such as seven days before the expiry.

Multiple reminder messages can be created for a voucher. For instance, seven days before expiry and one day before expiry.
Step four: Confirm and launch.
Reminder messages can be edited, disabled, or deleted after they are launched.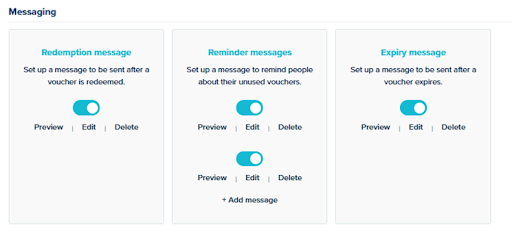 Voucher Reminder Page
There is a designated page in TalkBox for Voucher Reminders. You can create, view, edit, disable, or delete voucher reminders directly from here.
Navigate to: Automated > Voucher Reminder
Click 'add new' to create a new reminder.
Select the voucher you would like to set the reminder for and create your reminder message following the same steps as above.

Voucher Reminder Actions
Reminders can be edited, disabled, or deleted by clicking on the three vertical dots under 'Actions'.

If you have any questions or need assistance, contact support@impactdata.com.au.