TalkBox users are the people who can log in to your TalkBox account. In TalkBox you are able to add, edit and remove users if you are the account owner. You can also manage what a user is able to see and do in TalkBox by assigning them different user roles.
Navigation: Settings > Users
User Information
TalkBox users are identified by their name and email address. When added a new user you can set these values, and they can be updated at any time by selecting 'edit' next to an existing user.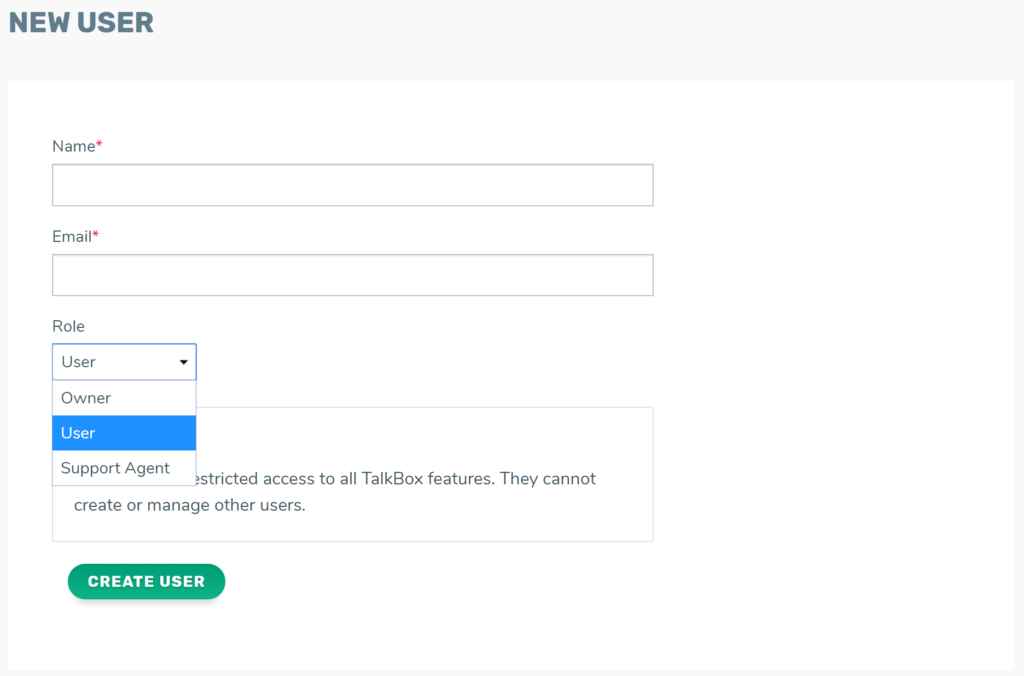 User Roles
TalkBox allows three different role type to be assigned to users. These are:
Owner
The owner of a TalkBox account has unrestricted access to all TalkBox features. Owners also have the ability to create and manage other users.
User
Users also have unrestricted access to all TalkBox features. Unlike owners they cannot create or manage other users.
Support Agent
Support agents have restricted access to TalkBox features. They can see and manage contacts but not access other TalkBox features like sending communications.
New Users
As mentioned above, new users can be added by selecting the 'create new user' button on the users page. On this page a new user can be added by entering a name, email address, and a role.
When a user is created they will be automatically sent an email to activate their user and set their password. If they are already a user of another TalkBox account your TalkBox account will just be added to their current access.