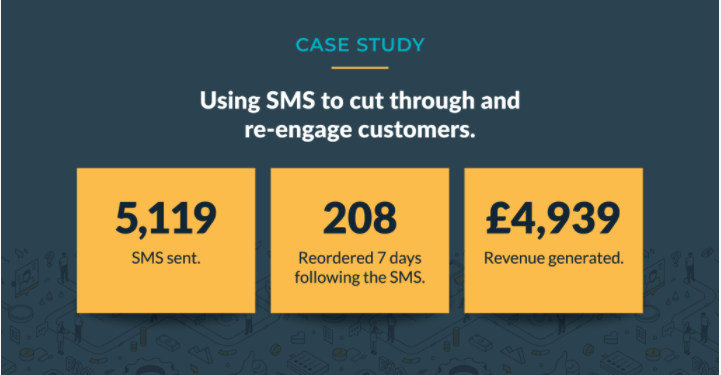 The instant and direct nature of SMS makes it hard to miss. The Chesterford Group generated £4,939 of additional revenue using SMS to re-engage with customers who had not ordered in over 5 weeks. This campaign was purposely sent without an offer and on a quiet Tuesday evening proving some customers only need to be reminded about a business to make a purchase. The short succinct message reminded customers about their 'award-winning fish and chips' and included a link to order.
While SMS involves a small cost, the ROI on a well-crafted campaign can bring in significant revenue. The Chesterford Group sent an SMS to 5119 of their contacts for the total cost of £148. This campaign helped to re-engaged 208 customers and drive sales on what would usually be a quiet Tuesday evening.
Staying top of mind is the easiest way to keep customers coming back. Regular communications with your customers across all platforms will keep your business from slipping and drive revenue. SMS marketing works to target customers in a direct and timely way reaching customers who might have missed your other marketing efforts.
WHY THIS WORKED:
Strong Call to action: The message included a link to order.
Cut through: SMS reaches customers who have not engaged with other marketing efforts.
Timeliness: Sent when customers began to consider their next meal.
See an example of The Chesterford Group's SMS: