An update details campaign can be sent to your contact list in TalkBox to enrich the data you currently have or retrieve information that you don't have such as email, or date of birth.
Below is an example of a successful update detail campaign.
The Inglewood Hotel were keen to get their contacts to update their details. By capturing their birth date along with correct email and the mobile number they had increase capability to communicate with their customers.
They sent an email to 4345 contacts with a button to a hosted form that also offered a chance to win a $200 dinner voucher when the contact updated their details.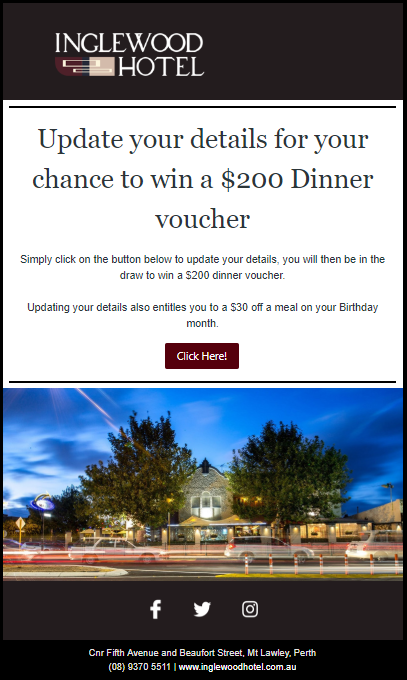 The 'Click here' button had a link to an 'update details' hosted form: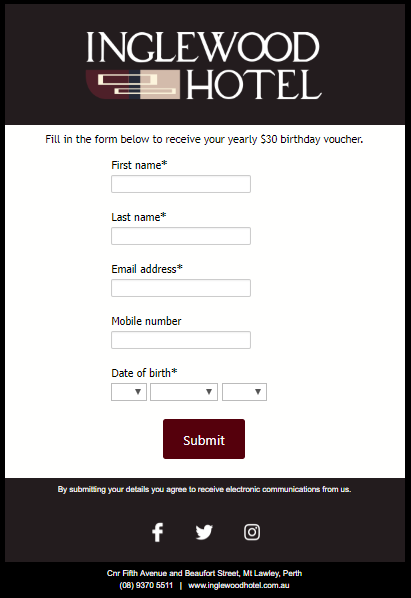 Once the information is entered, their profile in TalkBox is automatically updated. With the addition of information about their birthday, the Inglewood Hotel can now run an automated birthday promotion. This was set up in the account to send a $30 birthday voucher two weeks before their birthday.

RESULTS
963 recipients opened the email (22.2% of recipients.)
450 contacts updated their details (10% of recipients.)
For more information on how to create a form click here.
An update details campaign is a great way to discover more about your contacts, such as favourite drink, a favourite meal or favourite venue.