A welcome message or thanks for visiting is one of the easiest ways to keep your customers engaged and get a 2nd visit or purchase. You can set up a welcome message in TalkBox to send automatically after a customer signs up for the first time.
To create a welcome communications you will need to set up a 'Date triggered' automation. This article will guide you through setting this up in 4 steps.
Navigation: Automated > Date Triggered > add new date triggered communication
Step 1: Create content & review content
Select channel you wish to send the communication by; email or SMS.
Create content using the drag & drop editor. If you need to refresh your skills watch our creating an email video here.
Review content & send a test communication.
If using merge fields, use "preview content for" to review your personalisation.
See a few great examples at the end of this article.
Step 2: Select your recipients
Select who will receive the communication,
Select 'all contacts, which means the communication will be sent to any contact when they meet the trigger condition which is signing up via any method you have connected to your TalkBox account.
Step 3: Select your date trigger
Select 'Creation date' from the 'Field name' dropdown.
Edit the offset using the three drop-down options:

Number – select any number from 1-30.
Period – select from days, weeks, months or years.
Offset – select from before, after or on the day of.

It's a good idea to send a welcome communication 1 or 2 days after creation date.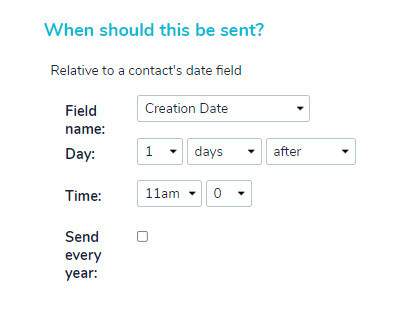 Step 4: Confirm & launch
Check that the recipient selection and trigger are both correct.
Click the confirm button in the lower left of the page.
Read through the details in the popup.
Click launch to send or schedule (if a later date & time has been selected) your communication.