Net Promoter Score (NPS) is a benchmark used to measure customer loyalty and satisfaction. Learn more about NPS.
The NPS tool in TalkBox lets you send follow-up communications based on how they rated your business.
This handy feature is a great way to catch bad reviews before they reach your social profiles or encourage customers to share their positive experience on your review sites. With a large portion of customers beginning their journey with a Google search and reviews having a significant influence on decisions, it's important your review profile represents your business.
To configure and create your follow-up NPS communications
Navigate to: Tools> NPS survey
This page lets you manage the communications that are sent when a contact submits an NPS survey.
Simply select the checkbox next to each response rating to enable the communication.
Select 'create promotion' to create your email or SMS communications.
Here are a few response ideas you can use based on the feedback score.
Promoter message – Feedback score of 9 or 10
The Promoter Message will automatically be sent to customers when they have clicked a rating of 9 or 10 on the NPS survey. This group of customers loves you! Invite them to share their experience on your review platforms.
See an example of a communication you can send to a 'Promoter' below.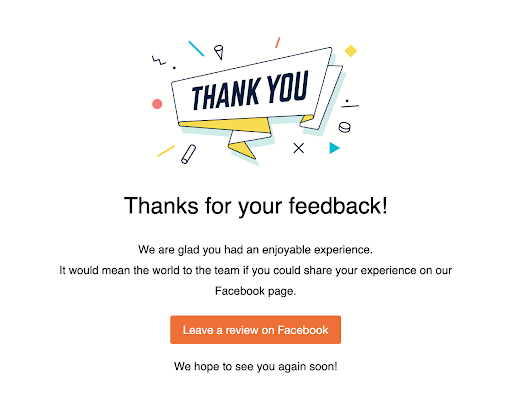 We saw one client significantly improve their listing rank on trip advisor after including a review request in their NPS promoter follow-up communication.
We set up an automated welcome email that is sent to customers when they join our database, asking for feedback on their visit. Customers are then automatically sent one of three follow-up emails depending on the feedback they leave. If a customer provides positive feedback, they are asked to leave us a review on TripAdvisor or Facebook, and these messages have seen us rise from 3rd to 1st on TripAdvisor for Hotels in our area. This is something we have been trying to obtain for a while, and couldn't be more delighted.
-Cameron King Lisini Pub Company Ltd
Did you know that :
60% of customers read reviews before going out for a meal, a habit that takes precedence over getting directions to a restaurant or looking at food photos.
93% of customers will read reviews of local businesses before deciding to engage.
About 95% of customers read reviews before making a purchase.
84% of people trust online reviews as much as they trust recommendations from friends.
Neutral message – Feedback score of 7 or 8
This group of customers are satisfied with their experience but are unlikely to refer you to their friends. It is still important to acknowledge their response.
See an example of a communication you can send to a 'Neutral' below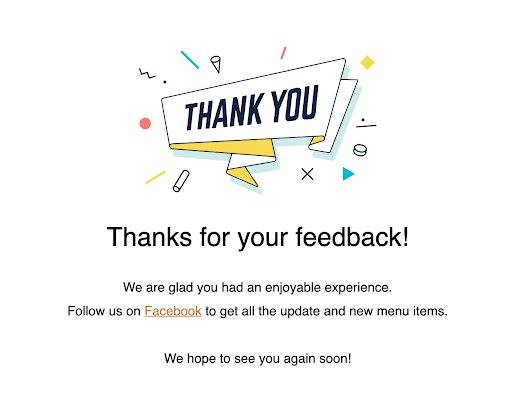 Detractor message – Feedback score of 1-6
Sending a communication to customers who gave your business a low rating can provide significant benefits.
Asking how their experience was shortly after their visit can help deflect any negative reviews reaching your public profiles. If management is quick to follow-up, you can transform a negative experience into a favorable one.
Here are some tips on what to include in a detractor email:
Include a voucher in the detractor email encouraging customers to come back to your business, ensuring their next visit will be better.
Remarkably, 21% of Becketts Farm visitors who gave a low NPS (net promoter score) returned for a 2nd visit to redeem their voucher! Read the full case study.
Managers or Owners email address– leave an email address with a name to encourage the customer to speak to someone about their negative experience in the hope you can resolve the issue before they resort to public review sites.
See an example of a communication you can send to a 'Detractor' below.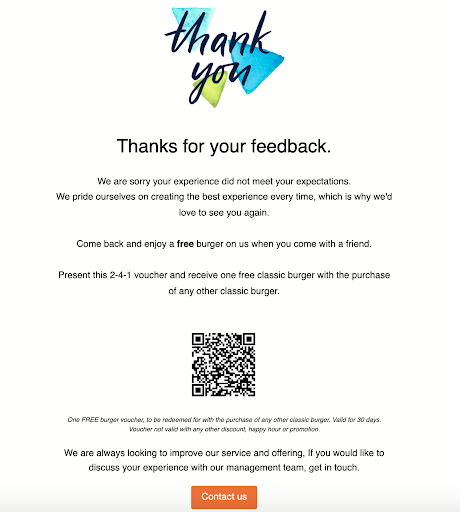 Need a refresh on how to use TalkBox? Watch our TalkBox demonstration video on Youtube.