The team at Restaurant and Catering Australia have been supporting members in many ways during these difficult times. In fact, they have been supporting the industry since 1922. In 2020 with many venues closed during the early stages of the pandemic, they created a campaign #EatAloneTogether to help drive takeaway business sales. This campaign in conjunction with Entertainment and Unilever Food Solutions has now evolved into #TakeawayTuesday.
Many restaurants embraced takeaway during the lockdown, proving that takeaway can be a valuable revenue source. Creating awareness and leveraging off a national campaign, venues can create a new reason to engage customers on a traditionally quiet evening.
An added benefit of launching takeaway, is that many venues added providers that collect and pass on customer details. This can help a business rapidly build a database of engaged and recent customers.
The team at Impact Data also wanted to support this campaign so we have created a dedicated #TakeawayTuesday email template in your account.
To find it simply navigate to: Communications>Create new>Email>Business Critical Emails.
All you need to do is update the links to your ordering partner and menu. Of course this is a typical TalkBox template that can be easily updated to suit your needs and branding.
SMS is a really effective way to get attention and boost your Tuesday sales. SMS communications reach more customers than any other marketing tool and can help promote campaigns on the day they are valid. Remember to select SMS when you are setting up your campaign.  This type of campaign is perfect for SMS, learn about how one Impact Data's customers bought in an additional 100 orders with one simple SMS.
You might want to think about having a special offer on this day to entice customers even more. Include additional information by selecting 'add promotion' as a link. You can create a TalkBox flyer with information such as your menu, how to book and opening hours.
See some example SMS below.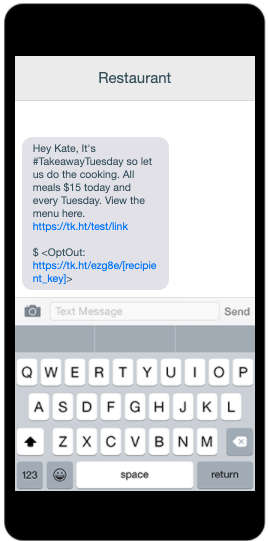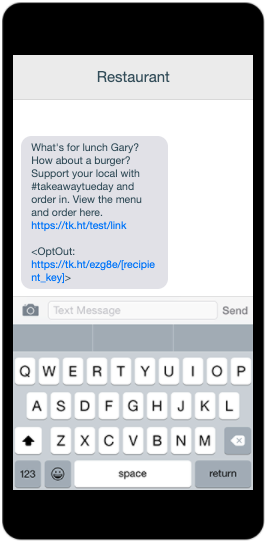 Top tips for SMS
Keep it short and simple. SMS over 116 characters will be spread over 2 SMS and you will be charged accordingly.
Include a merge field such as 'First name' to add familiarity and engage your reader.
SMS on the day the offer is valid to remind customers and get immediate results.
Add a call to action such as 'Book now' or 'Find out' more and Include your business phone number or link to book.
Add your menu by selecting 'add promotion' here you can create a TalkBox flyer with all the additional information your customer will need to order.

Watch our video on creating and sending an SMS here.
Need some more inspiration? Read about 'telling your takeaway story' here.