The fridges are stocked, your staff are excited to greet customers and the chefs have planned a new menu that will satisfy and delight. Now just to get those customers in the door.
If you haven't been communicating with your customers during the lockdown, it's time to start. If you have, regular communications have proved to be a great way to secure business as you create a loyal group of engaged customers.
To help you along the way, we have outlined a few points you may want to include in your communications.
Opening hours – Firstly tell as many customers as possible you are open! If you don't they may assume you are closed. Clearly state when you are open and how they can book a time. SMS is a great way to extend your marketing reach and get direct contact with your customers. See an example below.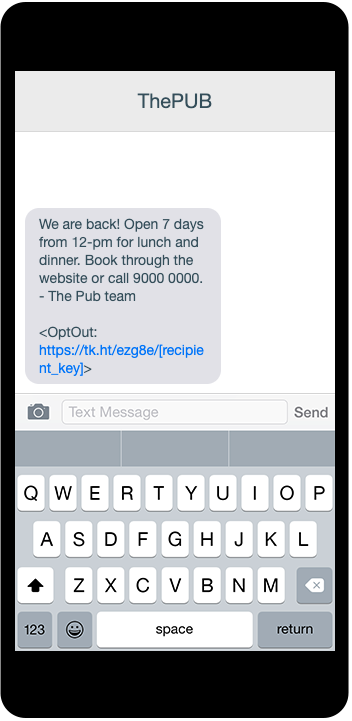 Capacity limitations – As this is constantly changing sending regular updates on your capacity restrictions can help customers feel more comfortable when entering your venue.
Cleaning procedures – Inform customers on your cleaning procedures. It's a good idea to make a song and dance about what your business is doing to keep them safe.
New operational procedures – Collecting contact information for COVID contact tracing is required for hospitality venues around Australia. Let your customers know about this before they come in so they are aware. of the new procedure.

Food & beverage – Have your chefs been busy working on some exciting new dishes? Or are you still offering takeaway meals for those who can't make it in?  
What your business does now will set it up for success as things slowly return to normal. Below is an example of how you can use TalkBox to communicate with your customers and let them know you are open for business.