The visits fields in your account provide insights into your customer's behaviour and can be used to trigger one-off sends or automated communications. Target customers based on their visitation or spend to drive loyalty and keep business moving.
There are many ways to use the new filters in your account and engage with your customers and keep them coming back. Such as:
Recover new customers who have not visited your business for a second time
Drive traffic on a specific day by targeting customers who have visited your business previously on that day.
Nurture and reward you most loyal customers and keep them visiting
Drive visits from infrequent customers

Read on to learn how to use the filters and the visits fields to learn more about your customers and target specific groups.
Get first-time customers back in who haven't visited in 30 days. Getting a second visit from a new customer
How?
Navigate to: Automated > Date triggered
Create your communication.
When you arrive at the 'Who' stage Select 'by filter' > create a new filter. You only want to target customers who have not returned since their first visit, so select the field 'total visits' and input '1.'

When you arrive at the 'when stage' you can specify what time frame you want to send this out, this period may vary depending on your business.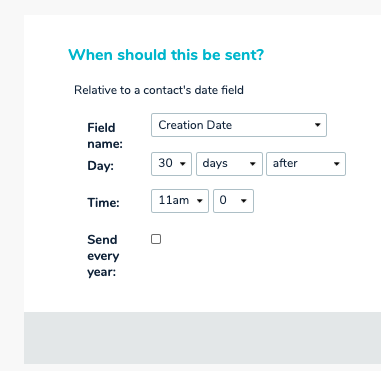 Select 'continue' and launch your communication. See an example of this communication below.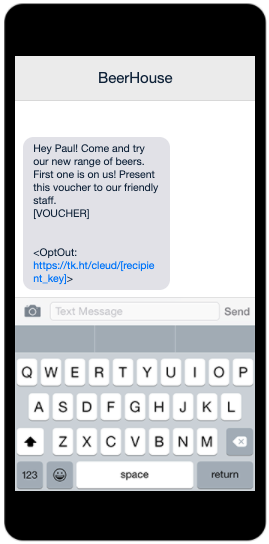 2. Drive more business on a specific day
Send a communication to contacts who have visited your venue previously on a Monday, Tuesday and Wednesday and invite them back in on those quiet days.
How?
Using the filter tool in TalkBox filter to weekdays visited and selected the days you wish to target.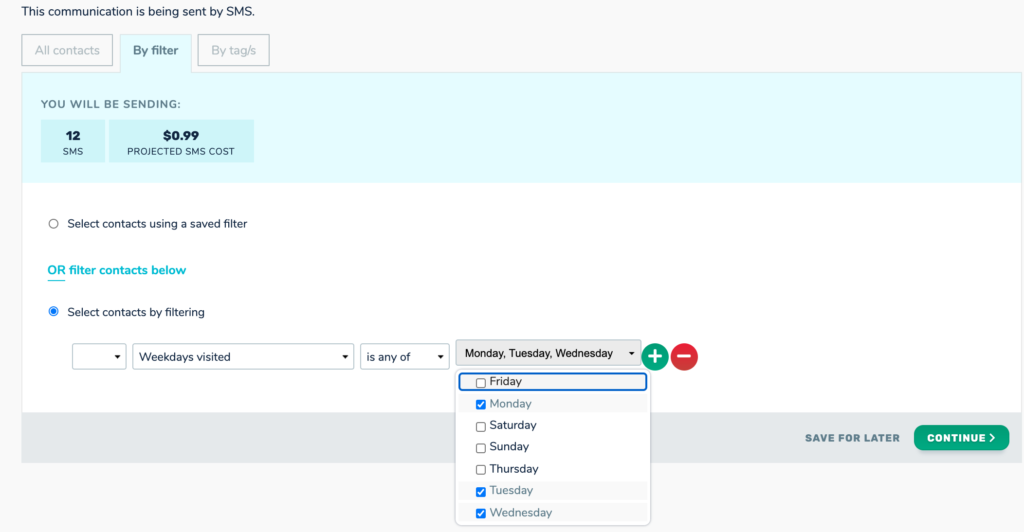 3. Send a communication to your most regular customers
Discover who are your most loyal and frequent customers in TalkBox. You may want to give these customers access to special events or sales, or just let your staff know who they are so they are looked after.
How?
Using the filter tool in TalkBox, select 'Visit Frequency' from the field drop-down and select 'High.'

4. Turn infrequent customers into regulars
TalkBox categorises your customer listing into high, medium and low frequency. This allows you to target those customers who rarely visit your business and get them back in. Send an SMS for maximum reach that includes an enticing offer to bring them back.
How?
Using the filter tool in TalkBox, select 'Visit Frequency' from the field drop-down and select 'Low.'

If you would like assistance using the visits fields and activating automated communications please contact our support team.