A signup button is a small button you add to your website that launches a signup form in a popup. Customers can enter their contact information that will then be added to your database. You can integrate your TalkBox account with your website by using a signup button.
Navigate to: Tools > Forms > Signup Button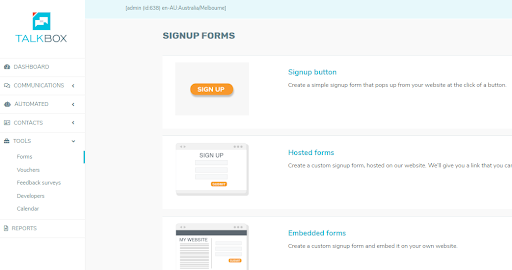 Step 1: Customise your sign up button
Click 'Button Settings'
Use the editing tools to change the colour, text and size of your button.

Step 2: Customise your pop up
Click 'Pop-Up Settings'
Give your pop up a heading. You will see a preview of what the pop up will look like on the right.
Include an agreement block about the terms and conditions of agreeing to receive marketing communications from you. eg. By ticking this box you agree to be contacted by email and SMS with updates and marketing. You can unsubscribe any time by clicking the link in all SMS and email communications. Your contact information will not be shared with anyone else.
Click 'Save'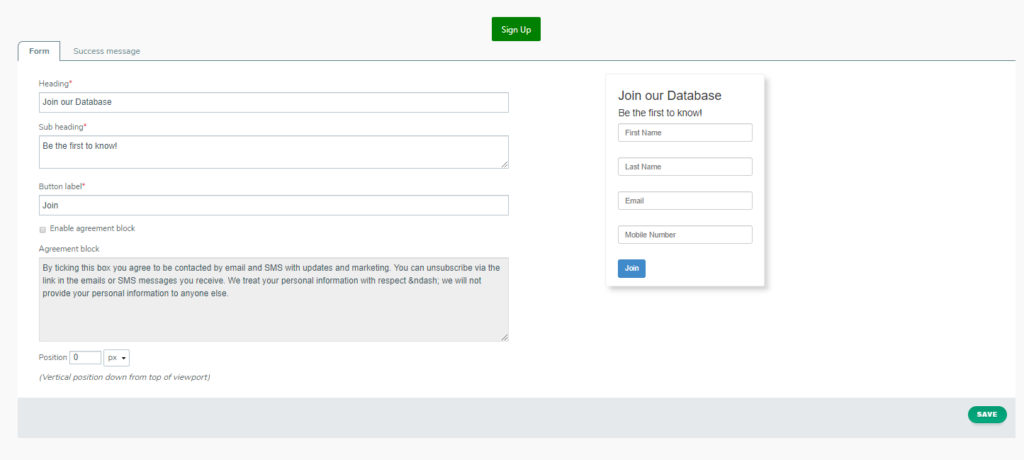 Step 3: Add the button to your website
Find the code for your button on the main Signup Button page.
To add the button to your website, Include the below code in your webpage. When this is done, the signup button will appear in your webpage inside the <div> tag.