As we come out of shutdown it's time to turn our attention to engaging our customers and getting them back into the venue as soon as possible. The Impact Data team have some great ways to engage your clients and reactivate lost customers.
Here's the plan to get members back in the door, we can assist you with reactivating or setting these up if you need.
1. Welcome message -1 day after sign up
This is triggered only once for new customers. It's important to turn it back on to make sure you are welcoming new members effectively.
If you haven't already, consider adding an offer and feedback to understand how your customers feel about your business. Learn more about adding a feedback survey here.
If any members were signed up during the time your automated communications were suspended a one-off campaign will help to welcome them to your venue.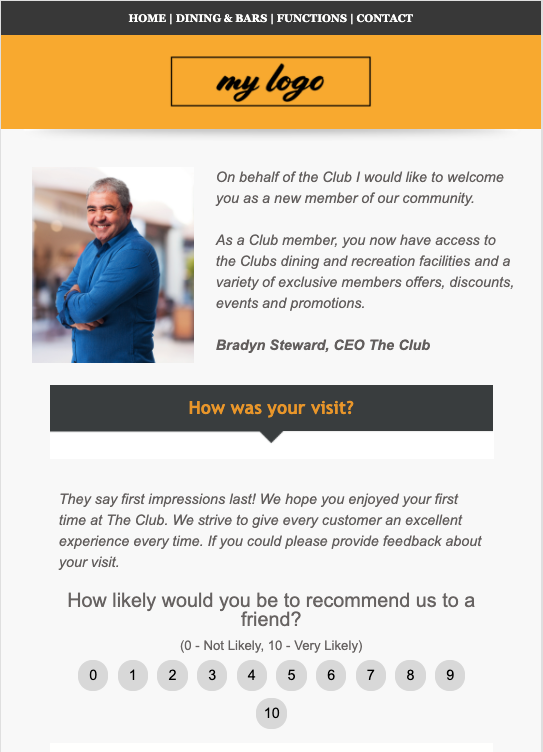 2. Win back – New communication
Connect with customers that haven't had a second visit. We suggest an automated campaign with a strong offer such as a venue voucher or 2 for 1 main meal to encourage customers to come back to your venue.
These campaigns can be scheduled at either 30 or 60 after a visit days to get a customer to return.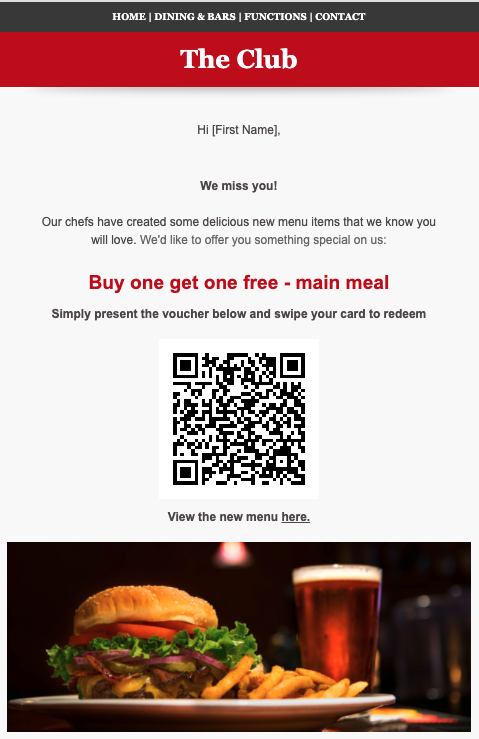 3. Birthday message – standard automation
Turn birthdays back on as soon as possible.
Send a one-off campaign to those customers whose birthday occurred during lockdown, invite customers to return and take up their missed birthday offer. You can also include an invitation to contact your venue to organise a celebration for the birthday they missed. We recommend filtering this communication to contacts whose date of birth is after 23rd March 2020 and before the date you re-activated your automated communications.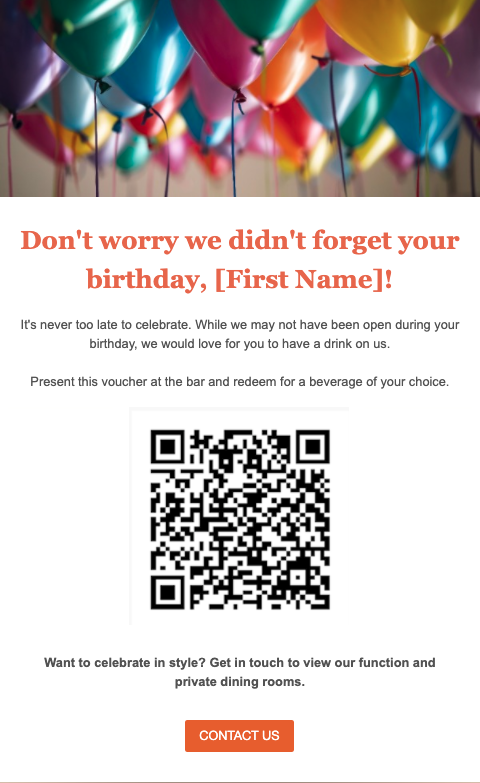 4. Milestone birthday
Turn milestone birthday communications back on from the first of the next month.
Send a one-off campaign to customers who would have celebrated during lockdown and invite them to make a booking for a 'catch up celebration'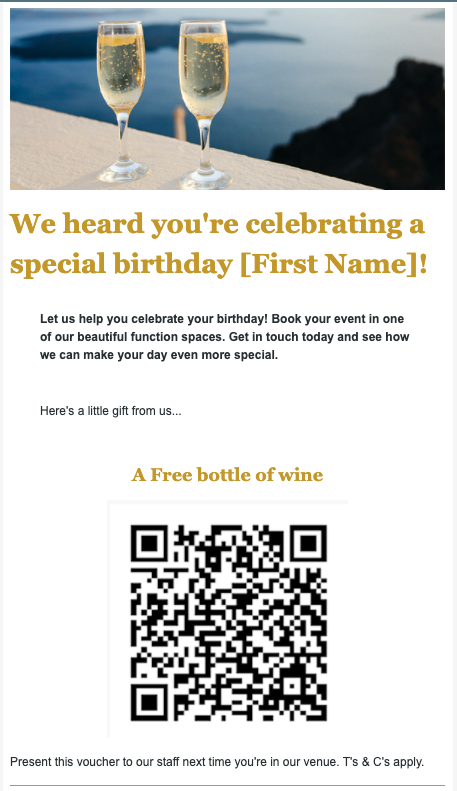 5. Function message – Recurring automated communication
Set up a communication to remind your members about your great function facilities. We recommend scheduling it to run once per quarter.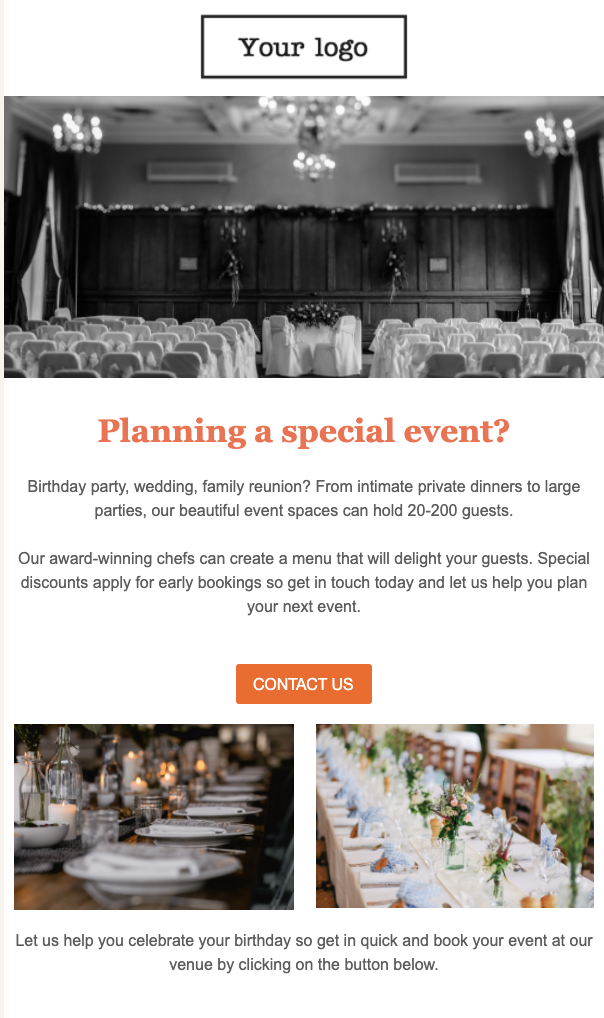 6. Expected next visit communications – Early, late & lost customers
Impact Data has adjusted our expected next visit date calculations for lockdown to ignore that period of absence and wait for the next visit to calculate their expected next visit, provided the member has already visited more than twice.
Adjust the filters on your automated communications such that last visit date is after [insert your reopening date.] and activate the communication.

Now that you have some new calculations in your account – high, medium and low spend and visit frequency; you can adjust your existing offers accordingly.
Begin with a series of re-opening communications that include an offer targeted appropriately at your customer segments. These messages can be staggered across three weeks.
High-value customers ( high or medium frequency + high spend) – $10 venue voucher or free main meal.
All other customers – $5 venue voucher and 2 for 1 main meal.
NEW AUTOMATIONS!
Recent updates to field sets in your TalkBox account mean there are now some new ways your can use customer data and drive sales with our clever automated communications.
7. Milestone visit – 5, 10, 15, etc. visits
Loyal customers are an extremely valuable asset for any business. Surprise, delight and reward your best customers with the new feature that counts the number of times a customer has visited. A free drink at their 10th visit? Or, a free main meal at their 20th.
Let us know whether you would like to set up communications for milestones and remember you can adjust the offer by whether they are in the low, medium or high spend category.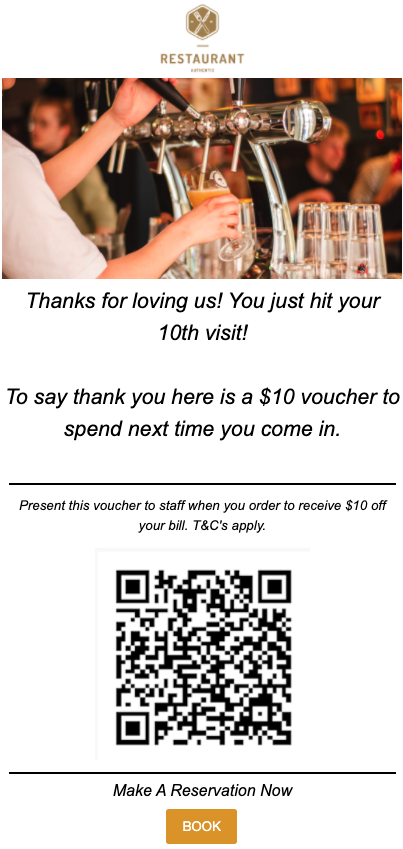 8. Stay busy every day of the week
One of the additional fields that we have added to your account is the days of the week that customers have visited. Combine this with happy hour vouchers and you could run targeted campaigns for quieter days and service periods.
Send an offer that's valid between 12-2 pm on Tuesdays to anyone who hasn't visited on a Tuesday before, or tell your weekend regulars about the fantastic steak night you have on Wednesdays.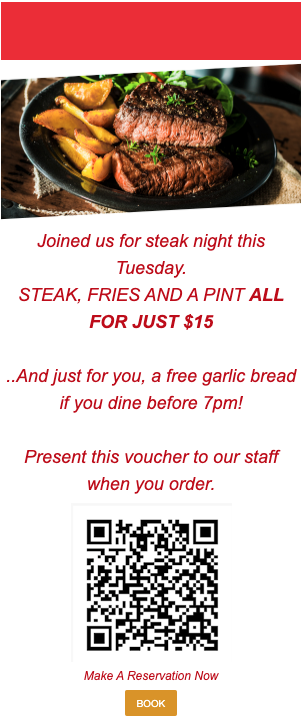 Make our clever automations start working for you again! Get in touch with the Impact Data team if you need any assistance turning them back on, or have any questions. hello@impactdata.com.au